Mark Peter Davis has been a lifelong entrepreneur. He says that it is not something he chose as a career. It's always been a hobby and a passion for him.
He started selling baseball cards in elementary school, candy in junior high, and he also sold computers to graduating seniors.
Mark is addicted to startups, and he tried to start five companies while in college.
Mark firmly believes that entrepreneurship is a mentorship sport.
Entrepreneurship is a mentorship sport.
Click To Tweet
He talks about the tremendous amount of knowledge an entrepreneur needs to acquire to truly be successful in this game.
He mentions the importance of surrounding yourself with good mentors, investors, and experienced operators because you will be able to avoid making the wrong decision, which can tip the odds in your favor.
Mark says that his ability to build personal relationships sets him apart.
When he is analyzing investment opportunities, Mark not only looks for stellar technology, an incredible team, and a huge market, but he also wants to invest in people he likes to hang out with and build strong personal relationships with. He says this makes people more productive.
He makes a point about there being many different types of founders who can be quite successful.
As a VC, it might not work to your advantage to look for very specific traits in someone because you might overlook other traits or a mix of traits that make that founder capable of building a successful company.
He also looks for basic organizational skills in a founder. Can they respond to their email in a timely manner?
He pays close attention to the dynamic between the founding team members during investment meetings with the founders.
Do they seem to get along? Can they have a healthy debate?
If you want to get into venture capital, Mark has some advice for you. Get a spot in front of the door, and when the door opens, step inside.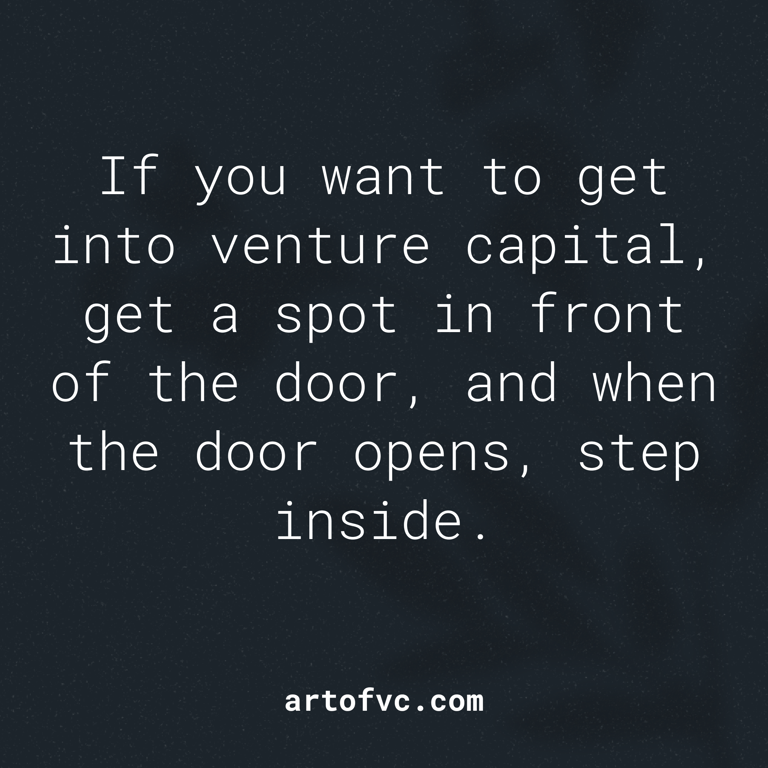 This means that if you're looking for a job in venture capital, you need to position yourself for the right opportunity. Reach out to people and get your name known.
When it comes to startup valuations, Mark says that the process of valuing a startup can be nuanced.
Most startups don't have cashflows, so the traditional valuation formulas go out the door in that case.
The question Mark likes to ask is, how many months of runway does the company need to accomplish its goals before another round of financing?
After answering that question, Mark uses that information to back into a valuation by also using the market to determine how much of the company can be bought for the amount of money the team needs.
He says that it's a good strategy for a founder to aim to keep investors at the table and let them drive up the price.
A good strategy for a founder to aim to keep investors at the table and let them drive up the price.
Click To Tweet
He recommends that entrepreneurs choose at least one investor whom they trust will always have their back no matter what and someone who will always give them the right advice through all the ups and downs of the startup journey.
Some entrepreneurs who can have a very successful business take venture capital and end up destroying their returns and sometimes even their business.
So, he says that venture capital is not the best path for every entrepreneur.
Smart words from an experienced operator.