Ron Conway, one of the most prolific internet technology investors, looks for a bunch of characteristics when picking founders to invest in.
He's been investing since 1994. He has invested in well over 700 startups. He decided that he would only invest in internet software, and he's stuck to it.
If there was ever a supercomputer that could sniff out successful founders, it would have to be Ron Conway. He can pick a successful founder from a mile away.
Obsession
He looks for obsession in a founder. The moment you start talking to Ron, he's trying to figure out if you're a leader and if you are maniacally focused on the product.
Ron wants to know why you're building what you're building. What inspired you to build this product? Is there a personal story behind the idea?
Strong Communication Skills
If you're going to be a leader and hire a team, you need to be an excellent communicator. He wants to see that you either have the skills or the ability to learn them.
If you're going to be a leader and hire a team, you need to be an excellent communicator.
Click To Tweet
Can you explain what your business does in a few words and immediately get him to see the value in what you're building?
Ron is probably not going to be interested in your business if you can't succinctly tell him what you're building and why. Oh, and make sure you have all your metrics. They matter!
Are you proactive? Are you a good listener? Do you have a clear vision for your product? Are you passionate? Flexible? Can you make good decisions?
Growth-Focused Mindset
You are always better off making your business better by focusing on growth and staying focused on the metrics than trying to design a better pitch deck and obsessing over the font, spacing, and images in your presentation.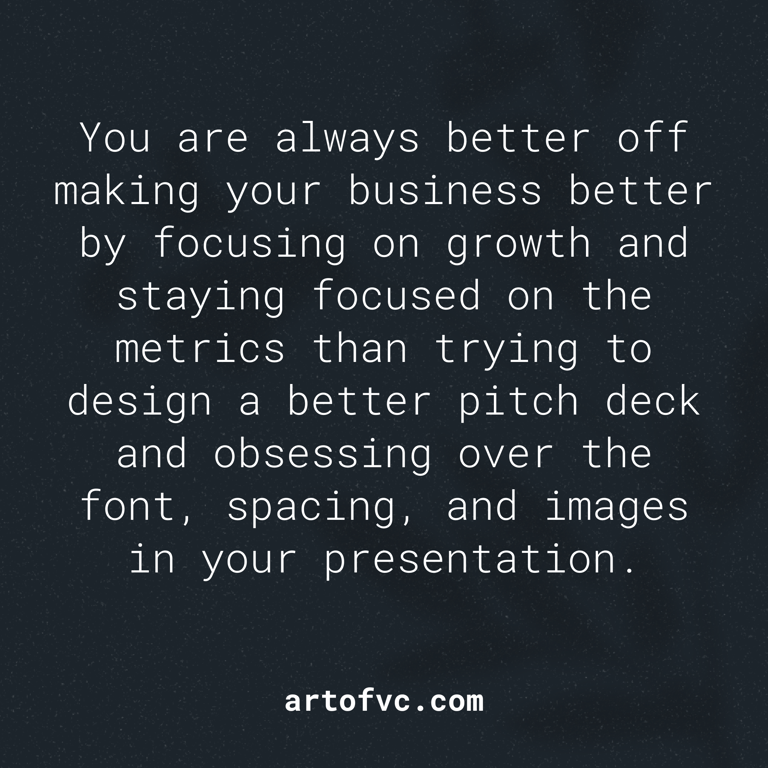 Trustworthiness
If you want to work with Ron Conway, trust is going to be the key aspect of the relationship. He wants to know that you can trust him, and he wants to know if you are trustworthy.
Detail Oriented
He recommends taking notes in your meetings with investors, so be sure to take notes if you're in a meeting with Ron. Summarize the commitments by investors and send an email to follow up.
Working With Ron
Ron and his team invest in about 1 company or maybe even more a week. So for every 30 companies they look at, they invest in about 1 or 2.
If you want to get Ron's attention, it's best if you figure out how to get a warm introduction from someone in his network. It's not impossible to get a meeting without a warm introduction, but it's highly recommended.
If you get a phone call after the email is sent, you're probably on your way to an in-person meeting with Ron's investing team.
Ron is known for being decisive and moving quickly. If Ron decides to invest in your company, he'll rally the troops and get other value-add investors on the team to invest in the syndicate for your round.
Ron is brutally honest. He'll tell you what you need to hear, not necessarily what you want to hear. So prepare to get the truth if you talk to him.
Ron was instrumental in funding Google in one of the earliest funding rounds. He went to bat for Larry Page and Sergey Brin, got the other investors on-board, and closed the round.
And as we all know, the rest is history.