Building a startup takes time. It can take years before a founder decides to quit their day job to start a startup for an idea that they've had for years.
Often times, the idea will fail, and the founder will try 10 more ideas before realizing they should focus on another idea.
This entire process is like an MBA in the startup world. It's on-the-job experience, and it's invaluable.
Founders learn a lot during this phase, and the ones that keep trying usually end up building successful companies.
During this phase, founders tend to develop their intuition on what works and what doesn't, how to think of problems that are worth solving, what might be a good market to go after, and how to ultimately build a product that people want and are willing to pay for.
More often than not, they pick a problem they've personally had, and with their personal experience being so valuable, they end up making something that people want.
Ben Silbermann, the founder of Pinterest, quit his job in May 2008 to start a startup, which he did in November 2009, and in March 2010 he launched Pinterest, which after three and a half months of launching had 3000 accounts on the site. It takes time to build a startup.
Ben says that startups are usually compared to marathons, and that's true in terms of how long it takes to build them.
But they're also risky, and unexpected things can happen along the way.
He compares the experience to going on a road trip in a car that doesn't have very good headlights and very little gas, and when you think you're going one way, you might realize you should have been going the opposite way, and if you ran out of gas, you might need to buy gas from someone who might end up kicking you out of the driver's seat.
Every day can be filled with uncertainty, and it's a very unnatural thing to do.
Building a startup is a very unnatural thing to do. Every day can be filled with uncertainty.
Click To Tweet
Because startups take a long time, people usually quit before seeing any momentum.
You need to be 100% committed.
Startups that are side hustles usually don't end up becoming what the founders imagined they could be.
They fall short of the initial vision because the founders weren't fully committed to it.
Ben Silbermann had started and built products before he built Pinterest, but none of them really saw any traction, and he points out that that's probably the case because he hadn't made a decision to be fully committed to the product he was building.
He hadn't burned all the boats, so to speak. It wasn't do-or-die.
That all changed with Pinterest.
His past experiences had shown him that it was almost impossible to build something truly valuable unless he was fully committed.
Startups evolve as they're being built, and most of the time they end up looking quite different than what they were when they were started.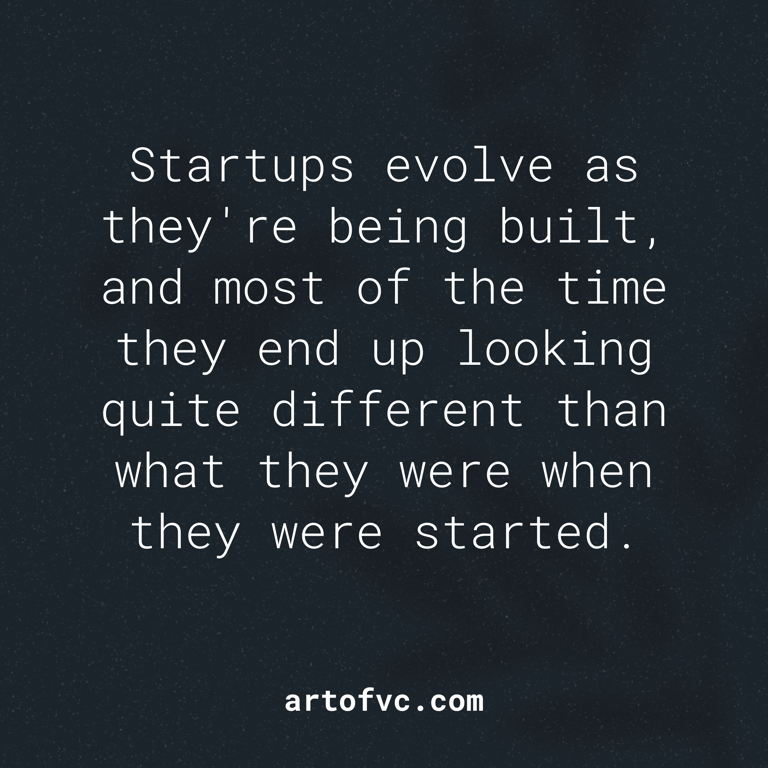 Pinterest initially started out as an app called Tote.
The idea was to build a mobile shopping catalog and allow consumers to shop on their phones.
Starting a startup is the easy part.
The journey to figure out how to get users and customers and find momentum as the product evolves can sometimes feel like a rollercoaster ride.
The journey to figure out how to get users and customers and find momentum as the product evolves can sometimes feel like a rollercoaster ride.
Click To Tweet
Or as Ben describes it, a long road trip where you could get kicked out of your own car, and that's why perseverance and commitment matter if you're going to start a startup.